Zero Candy Bar - Caramel, Peanut and Almond Nougat covered with White Fudge. That's what it says on the front of the wrapper. 

On the outside is a layer of white fudge.  No surprise.  The inside core of the bar is nougat - a sugar-based candy containing, in this case, peanuts and almonds.  Notice the label says white fudge, not chocolate fudge. At first glance you might think the covering was white chocolate, but after looking at the ingredients list, personally I don't think it qualifies.  Actually I don't think it was intended to. The center of the bar appears to be where the cocoa is. 


The Zero Candy Bar is, by design, very affordable.  Let's look at how that was accomplished:


The first two ingredients are sugars - sugar and corn syrup.  Sugar is usually less expensive than the other major ingredients, and corn syrup is usually less expensive than sugar.
If you eat this bar without reading the label or paying close attention, you might think the pieces embedded in the brown core are peanut pieces.  And indeed, some of them are.  But when we look at the ingredients list, we see that soy pieces come before peanuts.  So, there are more soybean pieces than peanut pieces. And soybeans are usually about 75% cheaper than peanuts.
Looking at the center, you might call this a chocolate bar.  And it is.  But while there is some chocolate in this bar, there's not much. Cocoa only appears in the "less than 2%" section of the ingredients list, oh and the almonds (more expensive than peanuts, and also in the "less than 2%" section) may have been roasted in cocoa butter.


Now for my very unscientific analysis of the ingredients list:
It's long (23 items depending on how you count);




It has several items that sound more like a chemical factory than like a farm

;

It has two items (artificial color and artificial flavor) that don't really say exactly what they are.

All in all, the ingredients list just does not give me a warm fuzzy feeling.

Please understand I am not saying this is a bad candy bar.  This bar was designed to sell for a certain (low) price.  And that target made it impossible for the company to use more expensive ingredients.  You get what you pay for.

If you are really looking for a good chocolate bar, I don't think this is it. 

The good news about the Zero Candy Bar is that it is very affordable. It is not entirely sugar, but will give you that short term energy boost.  If you are looking for an inexpensive, mostly-sugar bar with a touch of cocoa and a few peanuts, this could be the one.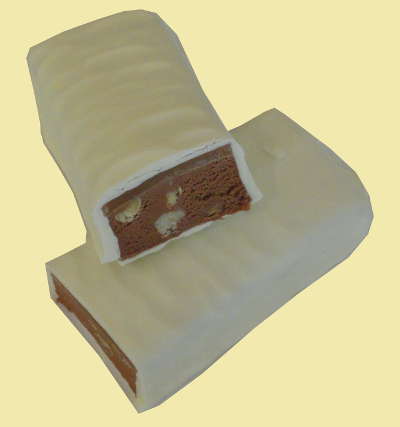 Since I had difficulty getting a good picture of the ingredients list on the label, here's the transcript:
INGREDIENTS:
SUGAR;
CORN SYRUP;
VEGETABLE OIL (PALM KERNEL           AND PALM OIL);
NONFAT MILK;
SOY PIECES;
PEANUTS;

CONTAINS 2% OR LESS OF:

COCOA;
MALTED MILK                                         (BARLEY MALT EXTRACT;                  WHEAT FLOUR;                          MILK;                                               SALT;                                                       SODIUM BICARBONATE);
ALMONDS (ROASTED IN COCOA BUTTER          AND/OR SUNFLOWER OIL);

SALT;
ARTIFICIAL COLOR;
SORBITAN TRISTEARATE;
EGG WHITES;
SOY LECITHIN;
HYDROLYZED SOY PROTEIN;
ARTIFICIAL FLAVOR;
MONO- AND DIGLYCERIDES.