Tootsie Roll is a cylindrical bar of mostly sugar, oil and milk.  With some cocoa and a few other things. 
Unlike a lot of candy bars, the wrapper doesn't make a claim as to what the thing is.  Other than, well, a Tootsie Roll.  I would say it's most similar to fudge, although really it has a substantially tougher, less creamy consistency than most fudge. 
The good news is, it will withstand hotter weather than a chocolate bar without melting.  And, similarly, it will last longer in your mouth without melting away. 
The bad news?  This is not really a chocolate bar.  Even though, if you're like me, you may have always thought if it as one.  Looking at the ingredients list, there is no chocolate, and no cocoa butter.  What there is, is cocoa and partially hydrogenated soybean oil (with sugars).  This combination is known as compound chocolate or imitation chocolate.

It's made by Tootsie Roll Industries in Chicago, Illinois.  Despite the questionable ingredients, this candy bar has maintained its popularity for a long time - it's been in continuous production since 1896. 
And it's been successful enough that the company's stock is now listed on the New York Stock Exchange - under ticker symbol TR.  

When I was a kid I ate quite a few of these, although I can't say they were really on my favorites list.  Of course, back then I never looked at the ingredients list.  Oh wait, that's wrong.  Back then there were no ingredients lists.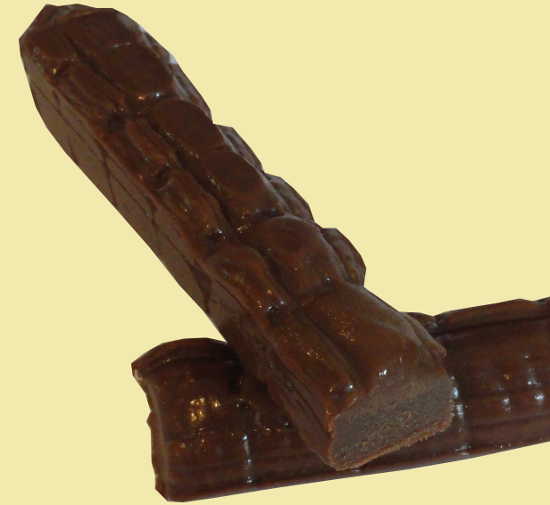 Good:
    •    Doesn't melt as easily in hot weather
    •    Doesn't melt as rapidly (lasts longer) in your mouth
Not so great:
    •    Partially hydrogenated soybean oil
    •    Largest ingredient?  Sugar & more sugar.