Sky Bar
4in1 - 4 Flavors in Milk Chocolate
Caramel, Vanilla, Peanut, Fudge
Sky Bar is a milk chocolate bar that has four separate filled sections.  But what's unusual about this is that each section has a different kind of filling:

Caramel.

Vanilla. 

Peanut. 


Fudge.




If you're in the mood for a particular flavor experience, not so great.

But unsurpassed if what you're looking for is variety.  Either because you just are in the mood for variety, or if you're just in the throes of a great fit of indecision!

Or - if you want to share with friends who each have a different preference.

Sky Bar is not a newcomer.  It was invented in 1938 by the New England Confectionery Company. (Better known as NECCO.)

I enjoyed this bar, but mostly on account of the novelty of the experience.  As far as I know, no one else makes a bar that's organized this way. 
But as soon as I started to enjoy one of the fillings, there was no more of it.  So personally I wouldn't make this a regular just on that ground.  When I'm in the mood for something, that's what I'm in the mood for. 
Although as I said, if you're looking for variety, this is it.  Four in One.
---
Ingredients and Nutrition


There are basically five meta-ingredients in this bar: 

Because of the way the ingredient list is organized (or more precisely, not organized), there is no way to tell what ingredients belong to which fillings.  Not actually a big problem though, because I really doubt either you or I would buy one of these, eat three parts and pitch the fourth on account of some minority ingredient.

Still, I cannot recommend this as a regular source of chocolate.  Because it has partially hydrogenated vegetable oil.

And if you've read this website at any length, you've probably run across the Mayo Clinic comment on that stuff:
Mayo Clinic says that eating hydrogenated oil will increase your "bad" (LDL) cholesterol.  And at the same time lower your "good" (HDL) cholesterol.  That about says it, I think.

There's also the ingredient that gets unconfirmed suspicions, artificial flavor.  Since they don't tell us exactly what it is, we don't know whether it's something of doubtful healthiness or not.


INGREDIENTS:

MILK CHOCOLATE [

    •    SUGAR,
    •    COCOA BUTTER,
    •    MILK,
    •    CHOCOLATE LIQUOR,
    •    SOY LECITHIN,
    •    VANILLIN]

SUGAR,
CORN SYRUP,
INVERT SUGAR,
SWEETENED CONDENSED MILK [

COCONUT OIL,
BUTTER,
PEANUTS,
PARTIALLY HYDROGENATED VEGETABLE OIL [

PALM,

SOYBEAN,

COTTONSEED, 

PALM KERNEL],


CHOCOLATE LIQUOR,
ARTIFICIAL AND NATURAL FLAVOR,
SALT,
SOY LECITHIN,
EGG WHITES.

ALLERGY INFORMATION: CONTAINS MILK, EGGS, PEANUTS AND SOY.
MADE IN A FACILITY THAT ALSO PROCESSES TREE NUTS.

Ingredient quantity = 20


This bar has 200 calories, with 80 of them (40%) from fat.


---
Sky Bar can be difficult to find, but is usually available at Cracker Barrel restaurants.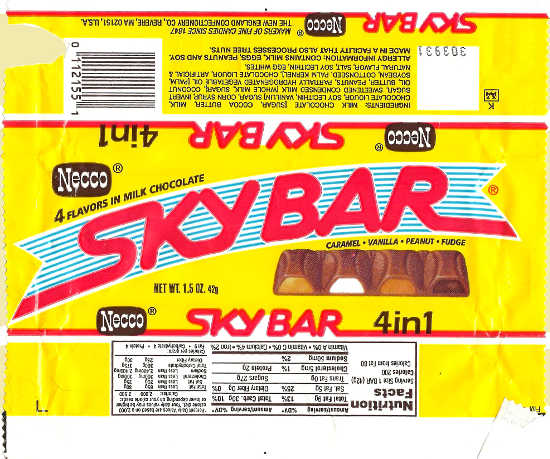 I paid $1.29 for this 1.5 ounce bar.  For comparison purposes, that's $13.76 per pound.  Pretty close to the top end of the pricing range for popular chocolate candy.

I'm giving this my personal score of 3.2 out of 5 stars for Overall Enjoyment, 2.9 for Nutrition, and 2.4 for Value. Keep in mind this is just my personal opinion.  Your mileage may vary, and there's no accounting for taste.


Now you know what a Sky Bar is.
Any questions?  You know where my Contact Page is!

Home                                       Chocolate Bars                                  Sky Bar (top)

When Sky Bar was introduced in 1938, it was first advertised using skywriting.