Gourmet Chocolate Mouse

Looking for a gourmet chocolate mouse?
It turns out there are several quite different things people mean when they ask for a chocolate mouse.

Here we have chocolate candy mice.

If you're looking for the kind of mouse who will actually steal your cheese, well the closest I have is this little guy.
In doing the research for this page, I found quite a few really cute chocolate mice.  And some not so cute.  I even discovered it's fairly easy to make your own chocolate mouse.  Although the easily homemade ones are much more look-vaguely-mouselike rather than actually resembling a cartoon mouse.

One of the things that surprised me on my quest for the best gourmet chocolate mouse was that they appear to be more popular in Europe than in the U.S.  I don't know that for sure, I just base it on the fact that most of the chocolate mice I found are from Germany or the UK.   As a result, if you're calling from the U.S. it may be a bit more of a challenge to have some delivered, and I don't recall ever seeing one in a store here. 
Sizes of these mice range from 1.4 to 9.9 ounces, and pricing from $23 to $42 per pound. Of course this varies with currency exchange rates.  And that's without freight from Europe.  :-(
Meanwhile, here some really cute chocolate mouses built by professional chocolatiers:

---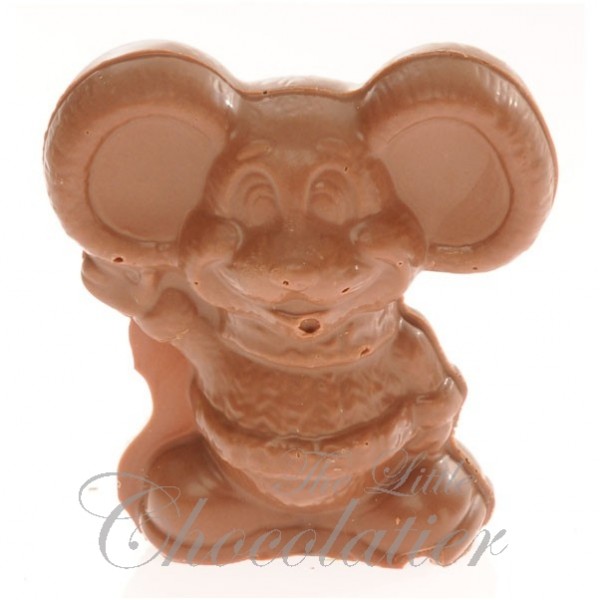 First, this little mouse is from The Little Chocolatier in Louth, Lincolnshire, UK.  A chocolate mouse wearing a sweater (I hear it can get chilly in Lincolnshire), smiling and waving at you.  Just your basic chocolate candy mouse.  Made in milk chocolate, dark chocolate or white chocolate.  60 grams (2.1 ounces).

---
This mouse from Austria has a little more detail, with really big ears and wearing a bow tie.  Made by Musil Schokoladenmanufaktur in Klagenfurt, Austria.  This is the second largest chocolate mouse I found, at 250 grams (8.8 ounces).  Also the face has more resemblance to a real mouse than to a typical cartoon mouse.  Made in milk chocolate (left), dark chocolate 69% (right), and white chocolate.

---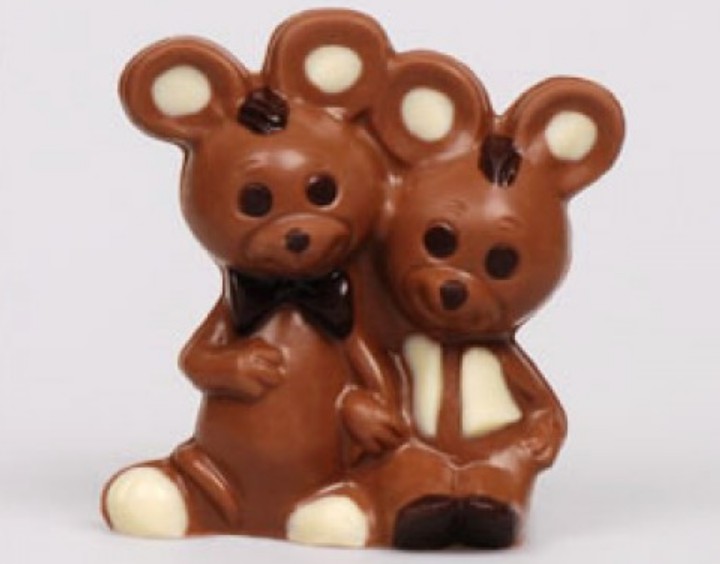 How's this for a romantic gift?  A boy and girl mouse!  Sitting, holding hands and looking at the camera.  She is wearing a blouse or vest, he is wearing a bow tie.  If your friend likes cute, cartoon mice, and chocolate, this could really be a winner!  This is also a more artistic piece than the previous ones.  Several of the details of this little chocolate sculpture - eyes, clothing, feet, ears, etc. - are made in contrasting colors.  This couple is made in milk chocolate, dark chocolate and white chocolate.  From Confiserie Felicitas in Hornow, Germany. 

---
This fellow looks like he's relaxing after a hard day of hunting cheese.  He's put his feet up and is just taking it easy.  A gourmet chocolate mouse masterpiece, with several details in contrasting colors.  And whiskers and eyebrows add to the detail.  From the Cheese And Wine Shop in Wellington, Somerset, England.  (Although he's originally from Wales.)  40 grams (1.4 ounces) of milk chocolate.

---
Okay, what could be funnier than a chocolate mouse with a cheese shish kebab he just swiped from the hors-d'ouevre table?  This miniature chocolate sculpture has so many details in appropriately contrasting colors.  And this mouse looks just a bit on the plump side.  Perhaps he's having a successful career as a cheese thief.  Like the mouse couple, this mouse is from Confiserie Felicitas in Germany.  (Although both are of Belgian chocolate.)  Mouse, cheese and base total up to 280 grams (9.9 ounces), making this the largest gourmet chocolate mouse candy I've found yet.     Back to Top

---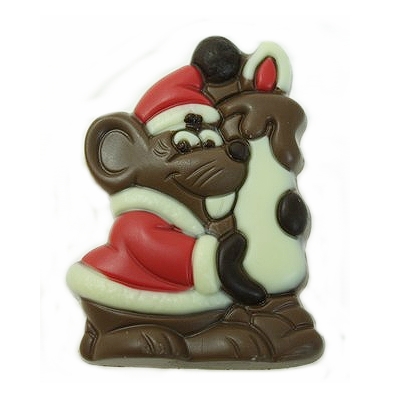 This chocolate mouse Santa Claus is the most detailed and most colored of all the chocolate mice I've found.  The mouse is mostly chocolate-brown.  His Santa coat and hat are red with white "fur" trim, as is the flame on his white candle.  Black for his gloves, hat tuft, and nose.  A big smile with twinkling eyes, just like Old Saint Nick.  Probably not for a summer party  ;-p  but hey.  40 grams (1.4 ounces) of sumptuous chocolate.  From hbs24 in Warmsen - Bohnhorst in Lower Saxony, Germany.

---
That about wraps it up for the chocolate mice I've found so far.  But I'm sure there are plenty more in the world just waiting to be discovered and tasted.
If you know of a tasty chocolate mouse who doesn't yet appear on this page, please do let me know via my Contact Page!