Butterfinger Bar

Crispety, Crunchety, Peanut-Buttery
The Butterfinger bar consists of a - in Nestle's words - "crispety, crunchety, peanut-buttery" core, surrounded by a layer of compound chocolate.  More on compound chocolate under nutrition.
Otto Schnering started a candy company near Chicago in 1916.  Because World War I was in progress at the time - the U.S. and Germany were at war - Otto decided not to use his German-sounding name for the company. 
Instead he gave it his mother's more English-sounding maiden name, and the Curtiss Candy Company was born.

In 1932, Otto invented the Butterfinger bar.  Originally it was made by Curtiss.  And after a stint at RJR Nabisco, it is now produced by Nestle.

I have completely lost track of how many zillions of these I have eaten, mostly in movie theaters.

In fact, this was on my personal favorite movie candy list.  Until I started studying the ingredients list.  Uffda.
---
Ingredients and Nutrition


Did you notice that the center of this bar seems a little bit more, well - orange than most candy bars? 

Look no further than the bottom of the ingredients list.  That's right, mix yellow food coloring with red and you get orange!

Remember - the higher an item appears on the ingredients list, the more there is of it.

So.  The first two ingredients are both sugars (corn syrup and sugar).  Well hey, we asked for candy, right? 

Next is peanuts.  Okay.


Then we have hydrogenated palm kernel oil.  Hmm.


The interesting thing here is the combination of palm oil with cocoa.  Also interesting is what's NOT here - namely any version of chocolate, or cocoa butter. 


Ingredients


CORN SYRUP,
SUGAR,
GROUND ROASTED  PEANUTS,
HYDROGENATED PALM KERNEL OIL,
COCOA,
MOLASSES,


AND LESS THAN 1% OF

WHEY,
CONFECTIONER'S CORN FLAKES,
NONFAT MILK
SALT
LACTIC ACID ESTERS,
SOY LECITHIN,
SOYBEAN OIL,
CORNSTARCH,
ARTIFICIAL FLAVORS,
TBHQ AND CITRIC ACID (TO PRESERVE FRESHNESS),
YELLOW 5
RED 40.

Ingredient quantity = 19

That is - other than the small residual amount found in cocoa - there are no chocolate fats in this bar.  Instead they have been replaced with hydrogenated palm kernel oil.
What this tells us, is that this is not a chocolate bar.  This combination, where chocolate fats (commonly called cocoa butter) are replaced with vegetable oils is not chocolate.  Legally, it's not chocolate.  Nutritionally, it's not chocolate.  The coating on this bar is what is known as compound chocolate, or more honestly, imitation chocolate.  Worse, the oil is hydrogenated.  According to the Mayo Clinic, eating hydrogenated oil may cause an increase in your bad (LDL) cholesterol.  And a decrease in your good (HDL) cholesterol.
This bar is 270 calories, of which 37% are from fat.


---
I have noticed two other things recently about Butterfinger. 
Remember I said this was my favorite movie candy?  Well, at the movies they sell small square ones in a box.  And I noticed these fairly recent changes:

First - The box is big enough to comfortably hold about 8 ounces.  For a long time there were 4 ounces, but not long ago they changed it to 3.5 ounces.  Of course, this meant there were fewer pieces in the box. Sooo -
more recently, they made the pieces smaller.  (They had been the same size pretty much forever.)  Why would they do that?  Hmmm.  Two theories - take your pick:

They made the pieces smaller so you could enjoy your candy longer.  Because there are more "bites" in the box, or

They made the pieces smaller so you wouldn't so easily notice that there is less candy in the same size box than there used to be.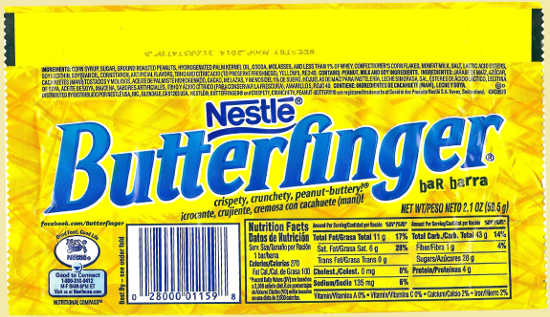 I paid $1.00 for this 2.1 ounce bar.  For comparison purposes, that's $7.62 per pound.  Somewhat less than the average pricing for popular chocolate bars.
I'm giving this my personal score of 3.2 out of 5 stars for Overall Enjoyment, 2.0 for Nutrition, and 3.5 for Value. Keep in mind this is just my personal opinion.  Your mileage may vary, and there's no accounting for taste.
Now you know what a Butterfinger bar is. 
Any questions?  You know where my Contact Page is!

Home                    Chocolate Bars                    Butterfinger

"Nobody better lay a finger on my Butterfinger." - Bart Simpson